I love the crispy, salty goodness of a perfectly cooked hashbrown.  There is something about the soft potato center and the crispy, perfectly golden edges that screams comfort food.  I hate to admit it, but I love the hashbrowns from Waffle House with cheese and chili.  So so bad for you, but so so tasty!  Along those same lines, I like to use leftover chili on baked potatoes – or pretty much anything, actually.  I combined my left over chili from last night's dinner and my craving for crispy hashbrowns into an easy weeknight dinner that even the busiest mom will have time to whip up.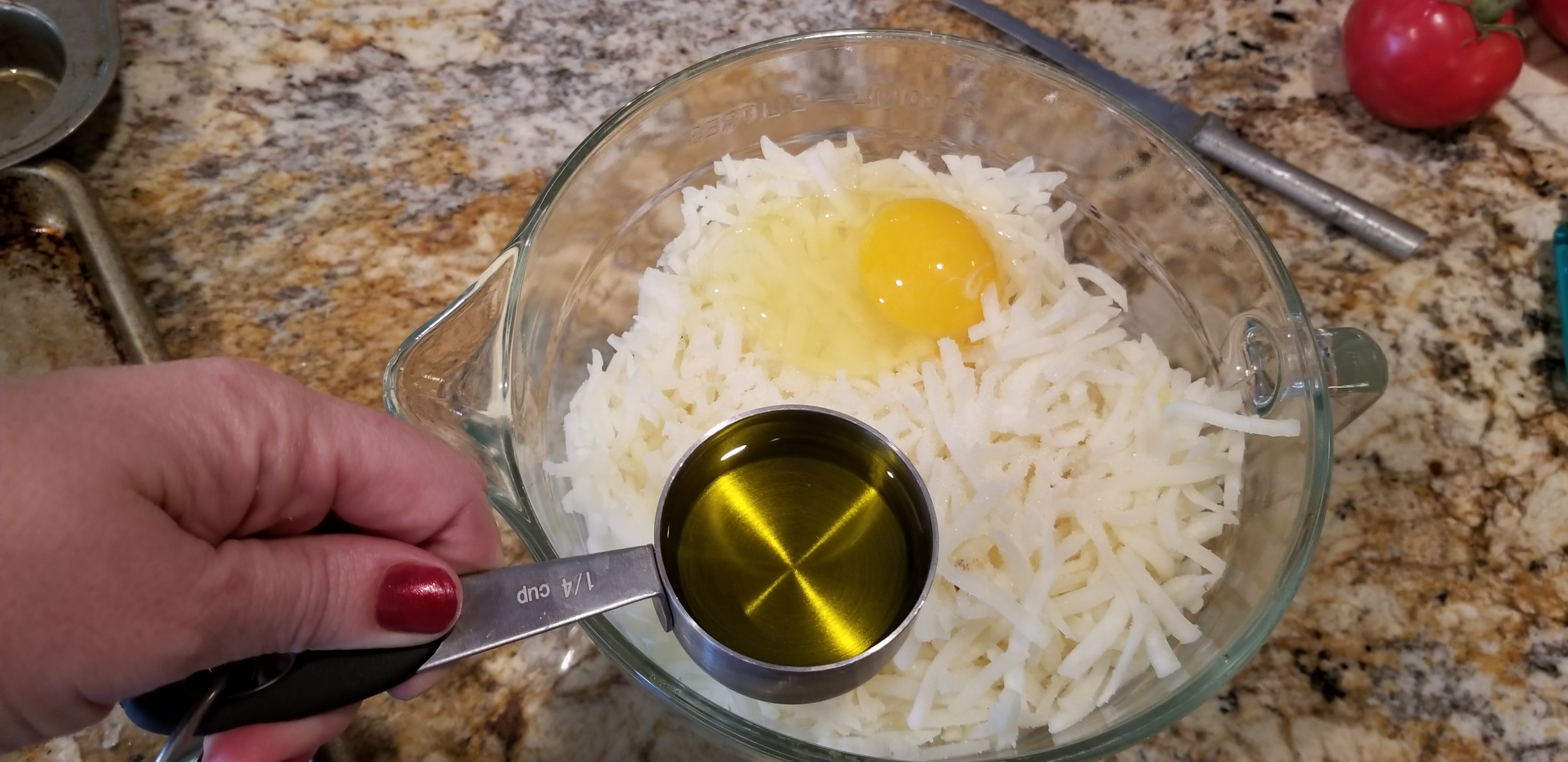 The hashbrown recipe is super simple.  I mixed up the same recipe that I use when I make hashbrown nests or the bottom layer to a breakfast casserole.  One bag of frozen hashbrowns, 1 egg, ¼ cup of olive oil, salt and paprika to taste.  Instead of cooking the hashbrowns in a muffin tin, I cooked it at 400 degrees for about 45 minutes on a cookie sheet.
Instead of standing over a hot stove and pan frying each hashbrown, I am cooking them all at once in a massive layer.  I love to cook in the oven because you basically pop it in and come back a few minutes later – poof, done.  No risky pots and pans for tiny hands to grab when they are "helping" in the kitchen, nothing popping out of a pan to splatter on half naked tots prancing through the kitchen, and most importantly, no hot pots of liquid heating on the stove.  Love it!
Once the hashbrowns are cooked to perfection – crispy and golden brown – remove from the oven and sprinkle with cheese so that it melts.  Let them rest for about 15 minutes before you try to cut them into equally sized squares.  You can also use basic cookie cutter shapes if you wish, my kids love heart shaped ANYTHING!  Intricate designs are going to get lost with the loose shreds and not hold together, basic shapes are best.
I love to make chili for my crew when it is cool out.  Since Mother Nature can't seem to make up her mind which season we are in, I took last night's cool snap as an opportunity for chili night.  I have one quantity and one quantity only for my chili recipe – massive.  I have attempted to halve the recipe before, but it just doesn't seem to be quite right.  I have learned to make a massive pot of chili and freeze half for later – problem solved!
The chili is relatively simple to make – and tastes twice as good the next day.  Brown two pounds of ground been and one sweet yellow onion in a pan until done.  Add fresh minced garlic and salt and pepper to taste while cooking.  You want the flavors to combine as the meat cooks.  Go lightly, you can always add more, but it is almost impossible to "fix" an over-salted dish.  Once the meat is done, drain and return to the pot.  I use two packets of McCormick's chili seasoning, 2 large cans of petite diced tomatoes, 1 large can of dark red kidney beans, and 1 large can of Bush's chili beans.  Once all of the ingredients are in the pot, I turn it down to low and let it simmer for about an hour, stirring occasionally.  I serve the chili with corn chips or crackers, cheese, pain Greek yogurt (instead of sour cream) and chives.  YUM!
Now on to the leftover chili.  To assemble the stuffed hashbrowns, I cut the hashbrowns into equal squares.  Place one on your plate, then top with chili.  Place another square on top, another spoonful of chili, and top with cheese, greek yoghurt and chives.
These crispy jewels are a culinary tabula rasa – you could top with ham, sausage, even spinach and eggs for a perfect breakfast-for-dinner that the whole family will love.