Oh, to be in Paris!  Paris is one of my favorite cities in the world.  What's not to love?  The city is full of art, beauty, architecture, history, fashion, amazing food – in every budget level, ambiance, and charm.  The old stereotype of snarky French waiters and rude Parisians no longer holds weight.  I have found the residents to be lovely, cultured, worldly people who are happy to interact, practice their English and allow you to practice your French.  The lively buzz of the city is palpable in the old city center surrounding the Seine. Cafes line the streets with lovely clusters of outdoor seating perfect for having a coffee or glass of wine and people watching.  For Americans who are used to eating lunches at their desks, rushed dinners and breakfasts on the go, the café culture of leisurely enjoying your meals and taking a few minutes for your own sanity is quite refreshing!
I stayed in the heart of the city this visit.  I booked via booking.com and had an AMAZING experience.  Les Rives de Notre Dame is situated just near Notre Dame Cathedral (yes, THAT Notre Dame), with sweeping views of the city from the upper floors.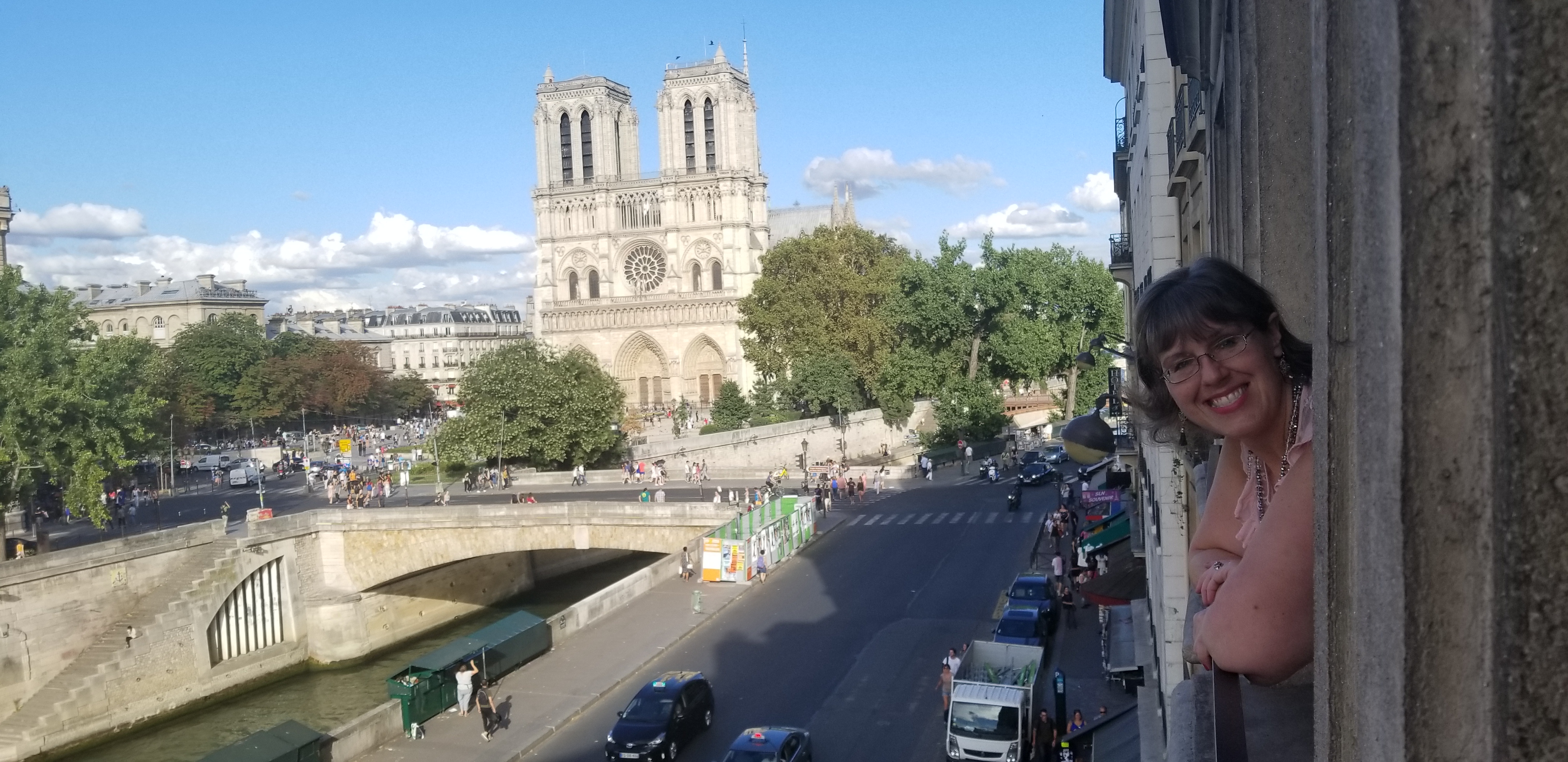 It is on the edge of the bustling Latin Quarter within a 1 minute walk of a Metro/RER (blue line) stop (VERY convenient!)  and just down the street from fabulous cafes, Shakespeare and Company bookstore, and tons of dining, shopping, and night life options.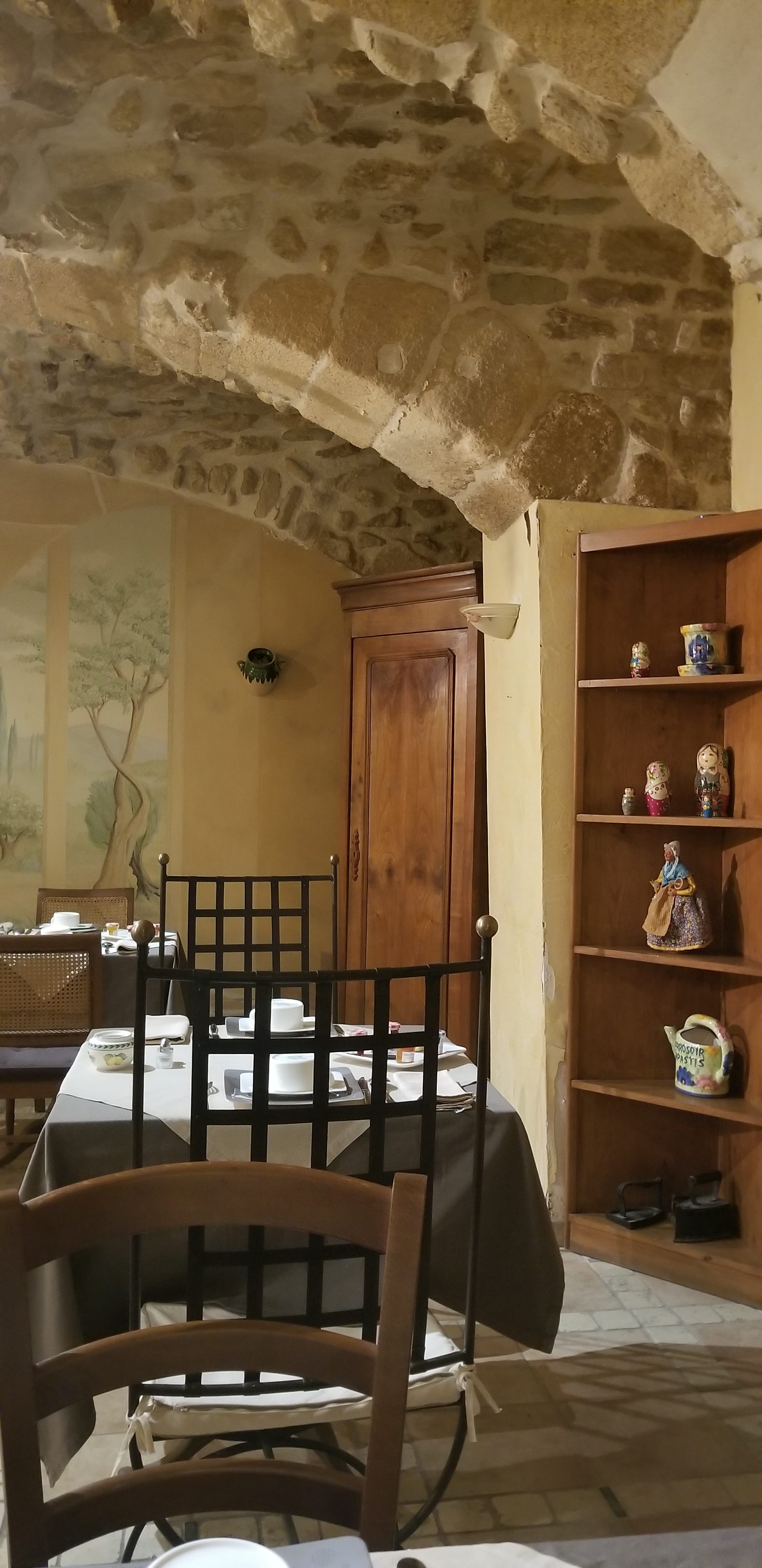 The hotel had a breakfast option that was amazingly well stocked.  The rooms were relatively small, but standard in Europe, well appointed and very comfortable.  The staff were amazingly friendly and responsive, and I LOVED the view and ability to open my windows and absorb the culture in the evenings while watching the river cruises slowly pass.  I would highly recommend this hotel to any casual or business travelers who are looking for a mid grade hotel with an amazing location.  I will definitely stay here again on my next visit.
Unlike in Rome (check out that post here), I relied on the Metro for transportation on this visit.  The metro is clean, safe, and cheap – taxis and Uber are unreal, and not practical for constant use.  It is also very clearly laid out and easy to navigate – even if you don't speak French.  I would highly recommend printing out a Metro map prior to departure and highlighting the stops that are of interest to you near the major sites.  Since I was there on work for this trip, I highlighted the stop near my hotel, then the route to the campus I needed to visit, then wrote out my route to make sure I knew where I was going the first time around.  It was so so easy!
If you are able to wax touristy when you are there, and enjoy literature, the perpetually competing cafes Les Doux Magots and Café du Flore will be of interest to you.  The food is good, but not amazing, and the prices are outrageous.  That being said, if you want to dine where F. Scott Fitzgerald, Satre and Beauovior and soak up the vibes from philosophical eras gone by, these should both be on your list.  I love going to at least one of them each time I go to Paris, just to imagine the raucous conversations and goings on from the post war era. 
You don't have to spend a ton to get a great meal in this city.  Some of my favorite options are the crepe carts where you can get a banana and Nutella crepe for a few Euro and eat it on the banks of the river.  This visit, I had the pleasure of visiting the Asian district with a friend, and loved every minute of it.  We had dinner at Comme Au Vietnam and the Nem were out of this world.  I had never had a noodle salad, and it is now one of my new favorites.  The flavors were fresh and vibrant and the portions were quite large.  It was one of the better dinners that I had in the city. 
As for tea houses, they are quite touristy, but I do love them!  My favorite is Lauderee in the Saint Germain des Pres neighborhood.  There are a few locations, with their flagship being on the Champs Elysees.  While that is fine, it is always chock full.  I absolutely love the smaller, more intimate atmosphere of the smaller location. 
The macaroons are the best in the city (my favorite is pistachio) and I love having a tea or coffee and sweet treat in the quite, dark blue velvet covered chairs and relaxing in the heat of the afternoon while recharging for a bit.  The other one that I tried, on recommendation from a friend, was Angelina.  It has, what is widely touted to be, the best hot chocolate in the world.  The macaroons and tea treats are amazing, and the cold chocolate is worth a taste as well!  I am so glad I went, as it was a lovely and peaceful respite.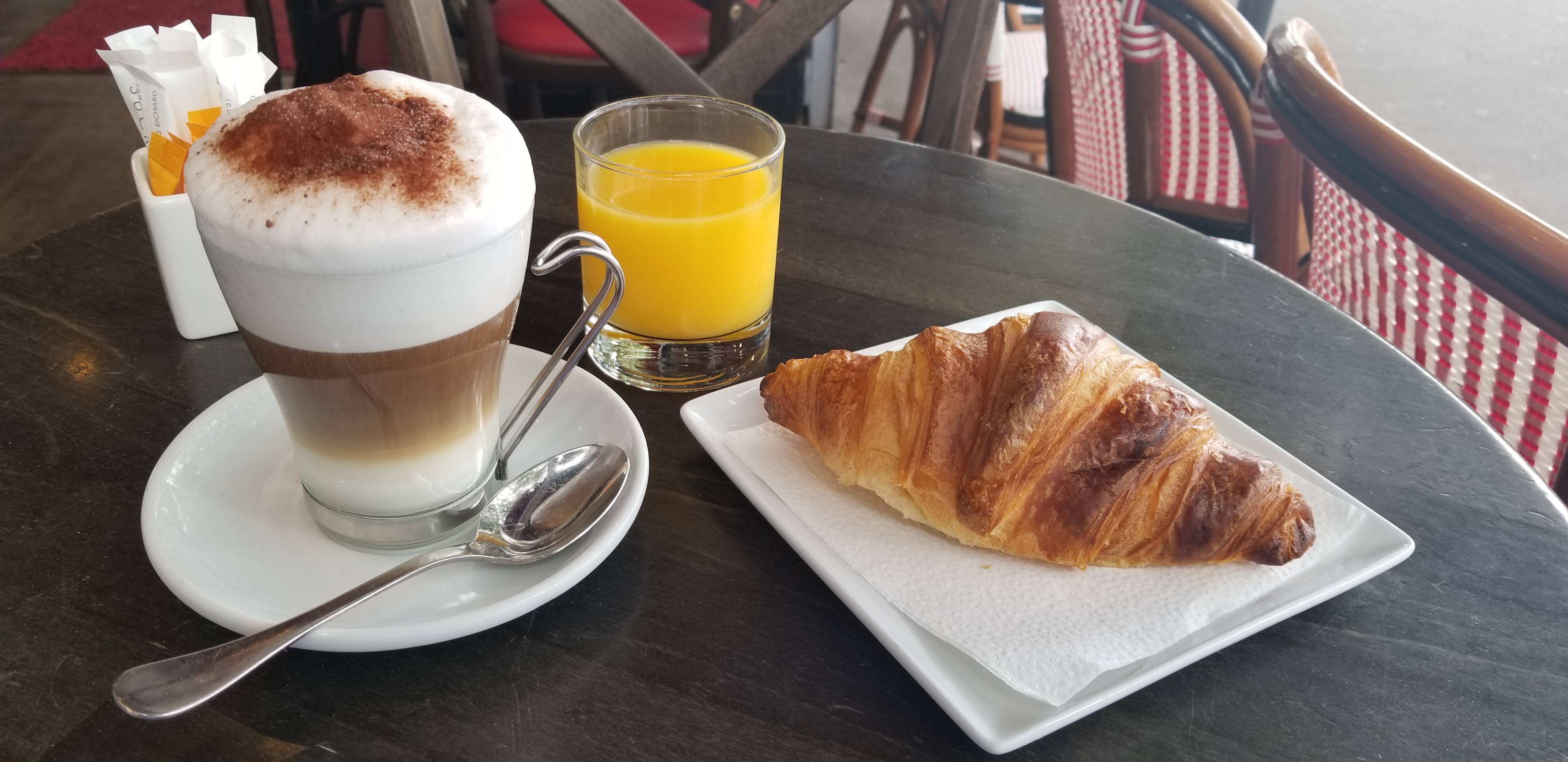 My favorite new experience of this trip was a visit to Les Duc Lombards jazz club.  I went with a girl friend and had an amazing evening.  Locals (read that as sugar Daddys) like to attend with their dates and relax to the soothing melodies and rousing solos of the featured jazz band of the night.  The atmosphere is fitting of an old school jazz club, and the intimate setting is perfect for a cozy night of magical music.
Notable cites are the Eiffel Tower (be sure to visit during the day and at night – the light show on the hour is lovely)Louvre, Musse d'Orsay, The Rodin Museum, and myriad of other smaller but equally amazing art museums.  I love the Louvre, but go in with a plan.  It is massive and you will NOT be able to see every piece of art in a single visit.  I like to go to a different wing each time I visit and spend the majority of my time in that location.  My first visit, I used the GPS guide to see the major pieces and have visited other areas in depth in subsequent visits.  I highly suggest the guide – it is worth every penny.  Do visit Notre Dame, but know that there is no shortage of historical cathedrals and churches all over the city that are stunning and less visited.  It is a real treat to attend Mass at these cathedrals and sit for a few minutes of contemplation with the locals.  Be respectful if you do attend worship, it is a sanctuary, and you should cover knees and shoulders and wear appropriate clothing.  I have a tradition when I visit cathedrals of lighting a candle for each of my children and saying a prayer of thanksgiving and ask for blessings for them. 
I lit a candle for my collective family this time as well.  You do need to contribute the one or two Euros that the church asks for the candles, but you do not have to be Catholic to attend Mass or spend a few minutes in prayer in any of the smaller chapels of the cathedrals.
Shopping in Paris is everywhere and nothing short of mind blowing.  There are the flagship stores on the Champs Elysees, but the atmosphere has changed over the past few years and better shopping can be found in other parts of the city.  Obviously, haute couture is what Paris is known for, but it isn't your only shopping option.  There are a ton of small shops and vendors that have charming wares at relatively inexpensive prices (inexpensive by Parisian standards).  Try one of the outdoor markets if you are lucky enough to be in the city on a Sunday.  Pictured here are photos from the bird market – odd but fun! 

There are other flea markets that sell bits and bobs of all kinds for all budgets.   There are also smaller boutiques that have everything from stationary to clothing to – my favorite – scarves.  Before long, my family is going to stage an intervention.  I love to pick up colorful and unique scarves when I travel.  I wear them and have such happy memories of my travels.  They are also perfect for gifts as they pack well and are usually quite light weight!
If you saw my post on packing for two climates and two weeks in one bag – you now know why I packed one bag – Paris.  I packed a second bag in my larger suitcase so that I could check two bags coming home.  I am thrilled with my purchases.  When I travel, I typically purchase things I can use rather than things that collect dust.  Now, I do purchase some of those as well, but it isn't typical.  In Paris, my favorite places to shop for souvenirs is the grocery store!  Monoprix has a lovely grocery section with spices, mustards, and treats that you can't get – or can't get inexpensively – at home.  I am not going to purchase things I can get at home unless they are pennies on the dollar.  I also stock up on French kitchen linens.  These kitchen towels are cotton, and not the typical terry cloth that you think of.  They are more like tea towels that are ultra absorbent and highly durable.  I tend to get them for myself and everyone in my family who loves cooking.  It beats the heck out of Eiffel Tower key chains.  My other favorite purchase in Paris is at the pharmacy. 
The Pharmacy isn't what we think of here in the states.  They are filled to the rafters with French skincare and cosmetics that are cruelty and chemical free – and the best part – they work!  My favorite brand is La Roche Possay.  I love their pigmentclar series that helps even skin tone.  In my older years, I have dark spots on my face from too many days in the sun in my youth, with too little sunscreen.  Because they are imported here, you cannot get the selection or pricing that you can there.  Typically, a serum that is about $60.00 in the states can be purchased for 27  Euros there.  Roughly half price!  I tend to stock up and purchase a year supply when I go – don't worry, it lasts for a year.  I also LOVE micellar water.  It is a clear facial cleaner that leaves your skin feeling fresher than any micro peel I have ever used.  I am addicted. Again, my favorite brand is La Roche Possay, but a popular brand is Bioderma.  I will be posting about my pharmacy haul in the near future!  City Pharma in Saint Germain des Pres is the Mecca of pharmacies in Paris – be prepared to be shoulder to shoulder with tourists and locals alike.  Go early, and go with a list!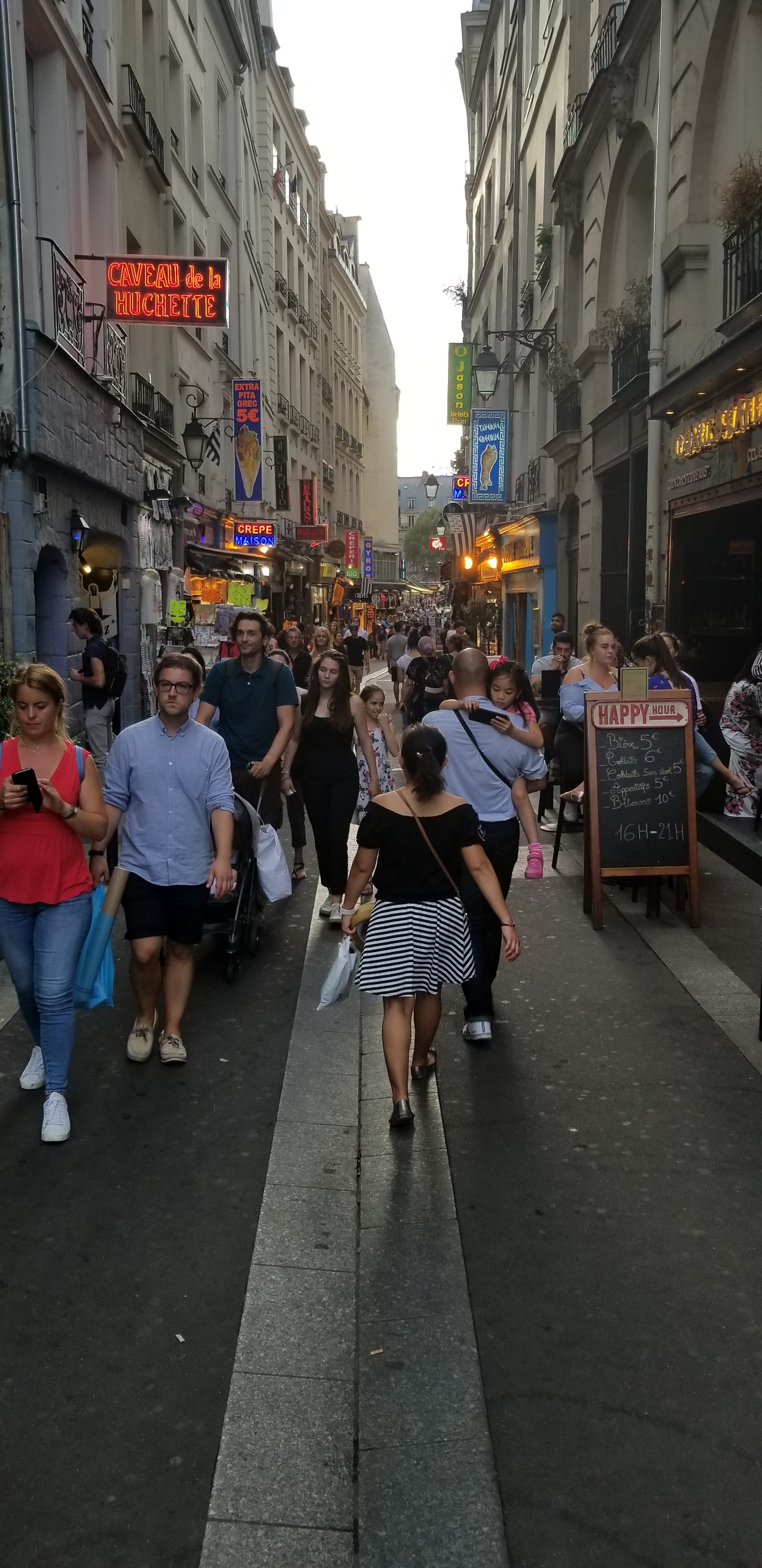 Paris is one of those cities that you are going to crave.  If you have limited time, pick a few sites to really experience rather than trying to see everything – it is impossible.  It is ironic that I am about to give this advice, as I am the queen of overscheduling, but make time to relax!  Sit in the cafes, watch people, stroll (really stroll) through the winding streets and quaint neighborhoods and get to know the real Paris.  Paris is a city to be experienced, not seen.  Yes, there are sites that you can't miss, but the real treasures of city are the people.  Make it a priority to observe the locals and try to do what they do for a while – really see and experience the city from their view point. Do your research before you go and schedule time to just be – to relax – to enjoy the ebb and flow of the city and really immerse in the culture. 
You will be glad you did!  What is your favorite way to experience the city?