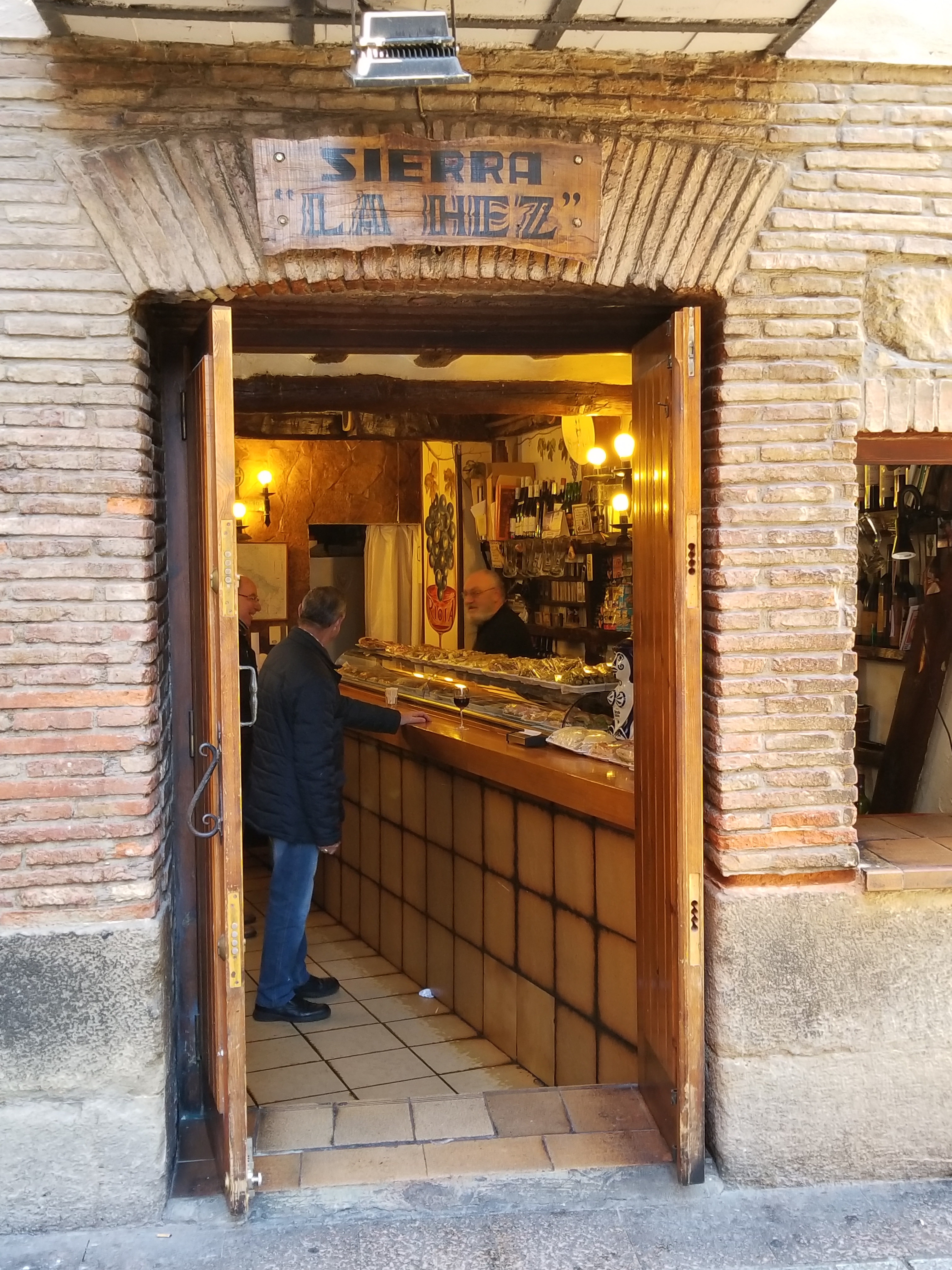 I recently had the opportunity to visit a few cities in Spain. In my line of work, I occasionally get to travel as a part of partnership development. That being said, I'll spare you the boring details of the work portion of the trip and share some of the more exciting portions.
My trip began in Madrid. I will admit, I had some trouble getting there! I flew out of Atlanta, expecting to connect in Philadelphia. Well, cue Mother Nature's sense of humor…we got 7 inches of snow overnight before I was supposed to travel!!! In December!!! For anyone who knows the climate of North Georgia, that NEVER happens – well, until I am getting ready to travel overseas. I missed my connection in Philadelphia and was rerouted to Boston, which would have been fine if we didn't sit on the tarmac for 3 hours prior to flying. I got to Boston about 2:00 in the morning and the next flight out to Madrid wasn't until 5:00 the next afternoon. Meanwhile, bags are nowhere to be seen. Silver lining – I did get to go downtown and do some shopping – part of that was a necessity since I had no makeup with me, and wanted to find a Sephora so that I didn't scare people by the time I did reach Madrid. Thank you, ladies at Sephora for making me up, giving me travel samples, and helping me find a few items I couldn't live without. Thank goodness I packed a set of unmentionables in my carry on just in case I needed to spend the night somewhere. I have never had to use them before, but this time I was SO glad I had them.
Once in Madrid, we landed about 6:00 AM local time – it is good that my first meeting didn't start until 8:00, right? Needless to say, I was whooped by the end of that day!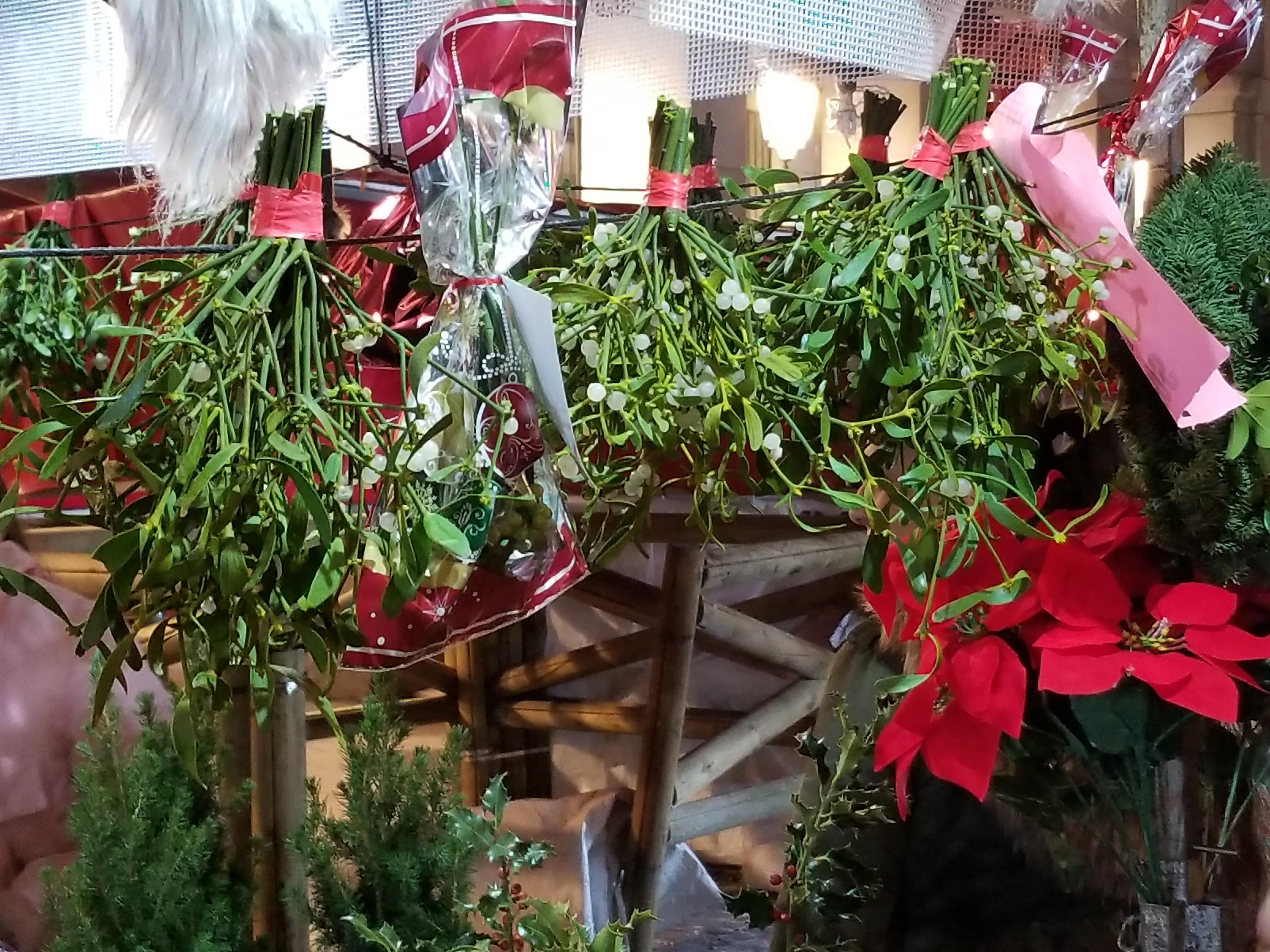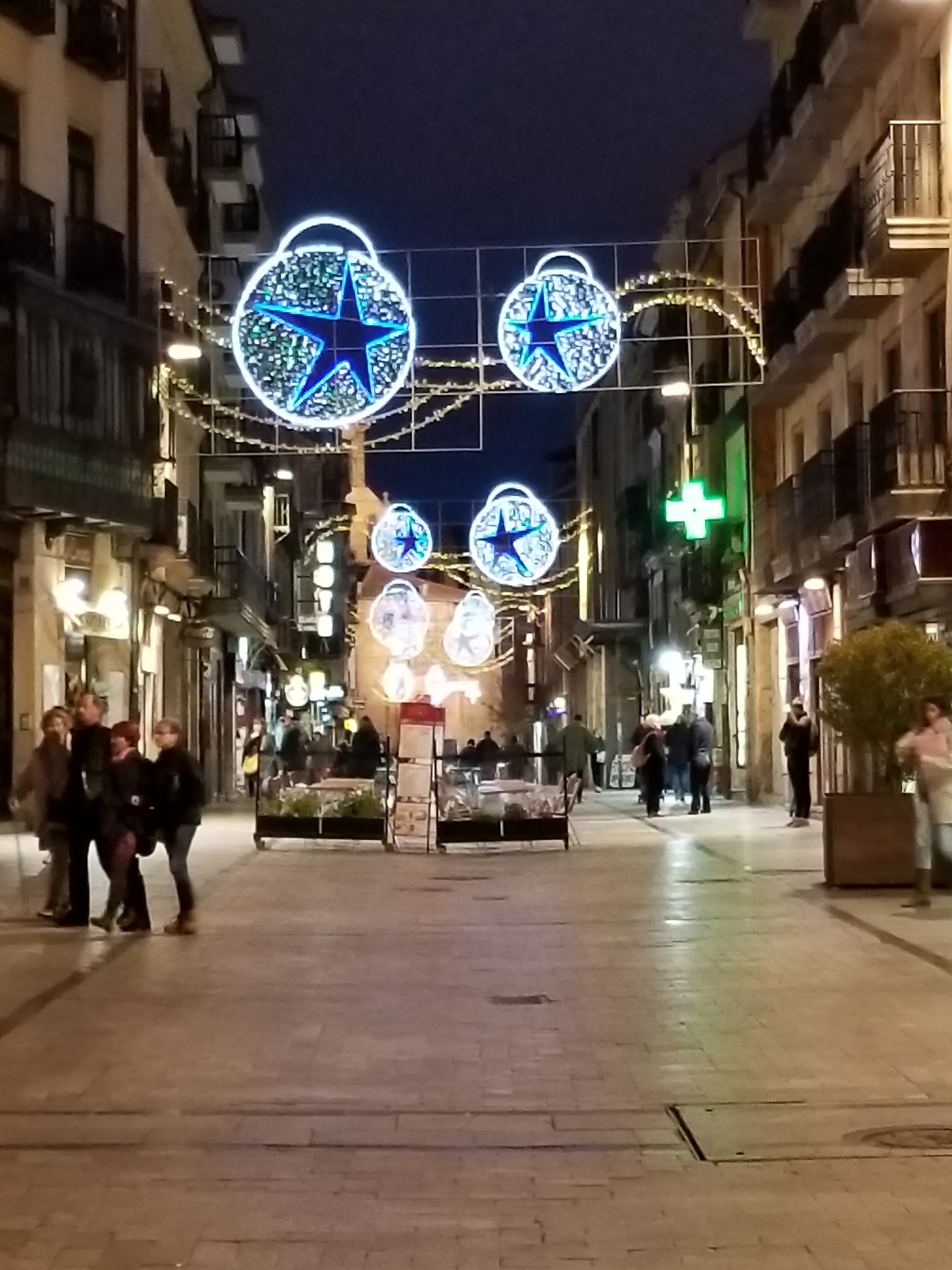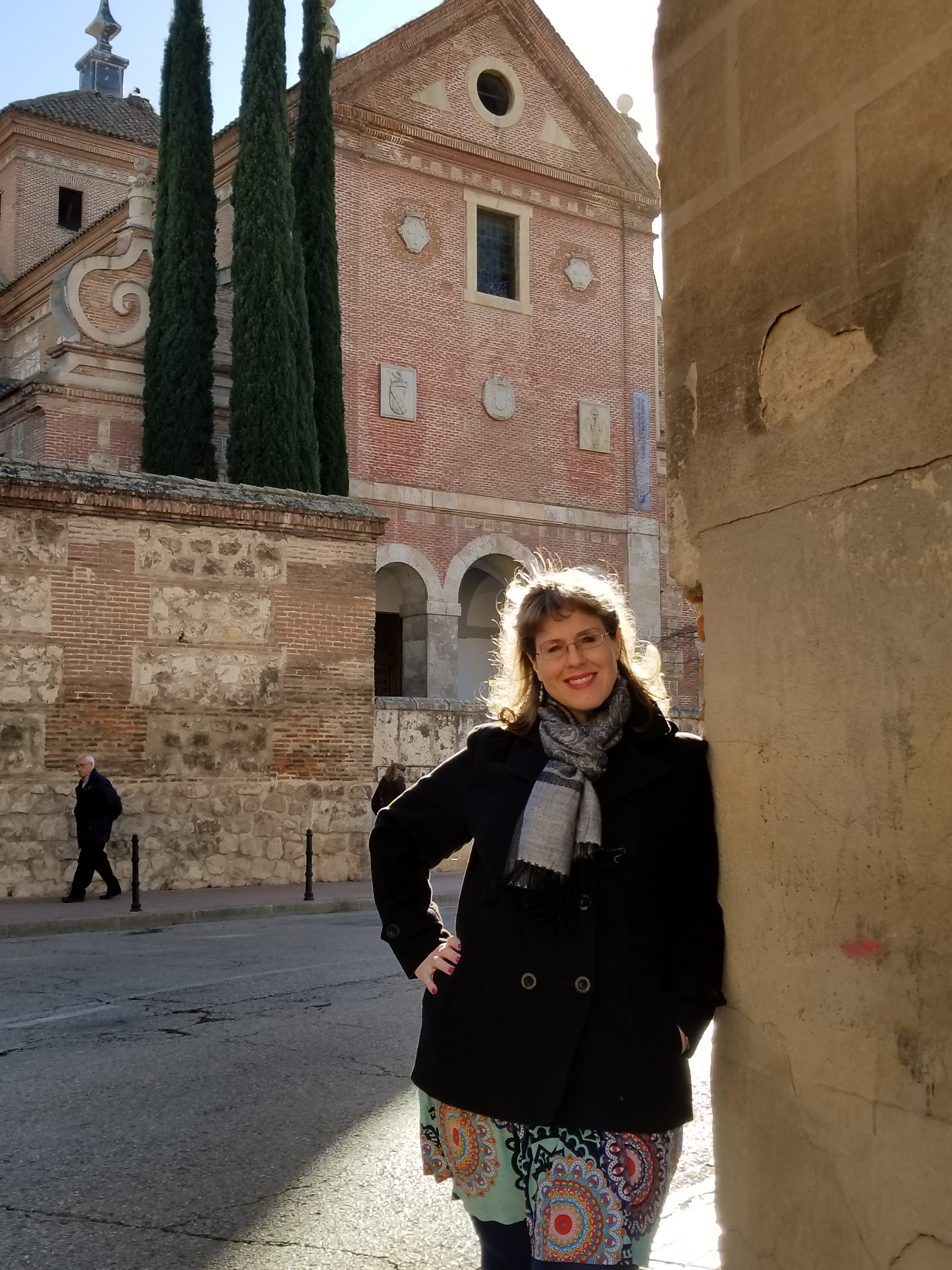 During my few days in Madrid, I was able to see the Christmas Market – honestly, I wasn't overly impressed with the Plaza Mayor market. I loved the nativity stalls, their depictions are much different than the ones I grew up with. I really regret not coming home with one as I absolutely love a nativity. Being a heavily catholic country, they were everywhere – much to my delight. I think I photographed every one I came across. Other than that, there were very few stalls that didn't have tons of items made in Taiwan. That is fine if it is what you are looking for, but I was hoping for something that was idealized and likely doesn't exist anywhere.

I did love the palace – stunning, and had a wonderful time exploring the shops and food markets in the area around the Plaza. The Christmas lights were beautiful. I am very much used to white lights or reds and greens. The majority of lights there were in shades of blue, purple and pink. It was beautiful, but also an adjustment. It seemed that the primary color scheme was blue and silver – beautiful.

From Madrid, we traveled via day trips to Cuenca and Salamanca, and overnighted in Pamplona. The cathedral in Salamanca was absolutely amazing. The frescos and carvings were incredible. As an aside, one of the campuses we visited was in a 1000 year old converted convent – could you imagine that being your school setting? I could hear the Nuns singing and feel the history in the worn stone walkways and stairs. You never realize how new everything in the state is until you visit Europe – there's old, and then there's European old. Cuenca is the home of Cervantes, and Catherine of Aragon (yep, Henry VIII's first wife). We got to see Cervantes' home as well as the site of Catherine's former palace. It was pretty amazing to see such beautiful little towns, sitting quaintly and perfectly, filled with so much history.

Pamplona was fascinating. In addition to the arena, we saw the starting location of the running of the bulls – no worries, no bulls that night. Once the rest of my colleagues went back to the hotel, I elected to go back into the city for a little shopping. I walked around the gas lit, cobblestone streets exploring shops and suddenly, as if hugged by an angel, this amazing scent wafted through the air and took hold of me. A vendor was roasting chestnuts – which I had never had in the freshly roasted form. What a magically Christmassy thing to do. I wished so badly for Tiny to be with me at that moment, smelling the earthiness, feeling the heat of the cone in her little hand, and strolling along the ancient streets with me. When I work, I have to leave the kids at home because of their ages – one day I will get to share these things with them as well.

La Rioja – one of the stops on the Camino de Santiago – was a beautiful, very hilly little town. It is the Spanish version of my little town with vineyards and wineries, olive oil that is locally sourced, and a wealth of natural beauty. On the city tour, we were able to enter one of the markets and had a wonderful time wandering the stalls and taking in the colors, textures and smells. I wanted to buy everything, find a kitchen and spend the remainder of the day cooking everything I could get my hands on.

The train ride from Pamplona back to Madrid is very scenic. You really get a feel for Don Quixote and what he might have seen on his adventures. Once back in Madrid, we checked back into our hotel and had one day to explore. A colleague and I decided to take the train down to Toledo. Exceptional idea! A very inexpensive, 30 minutes later, we were hiking up a hill that I like to think of as the widow maker – it may have provided me with a little motivation to up my cardio. Seriously, I felt a little old and doughy after that walk. Once at the pinnacle, the view was worth every huff and puff! Stunning view of the walled city, the Alcazar and the city scape.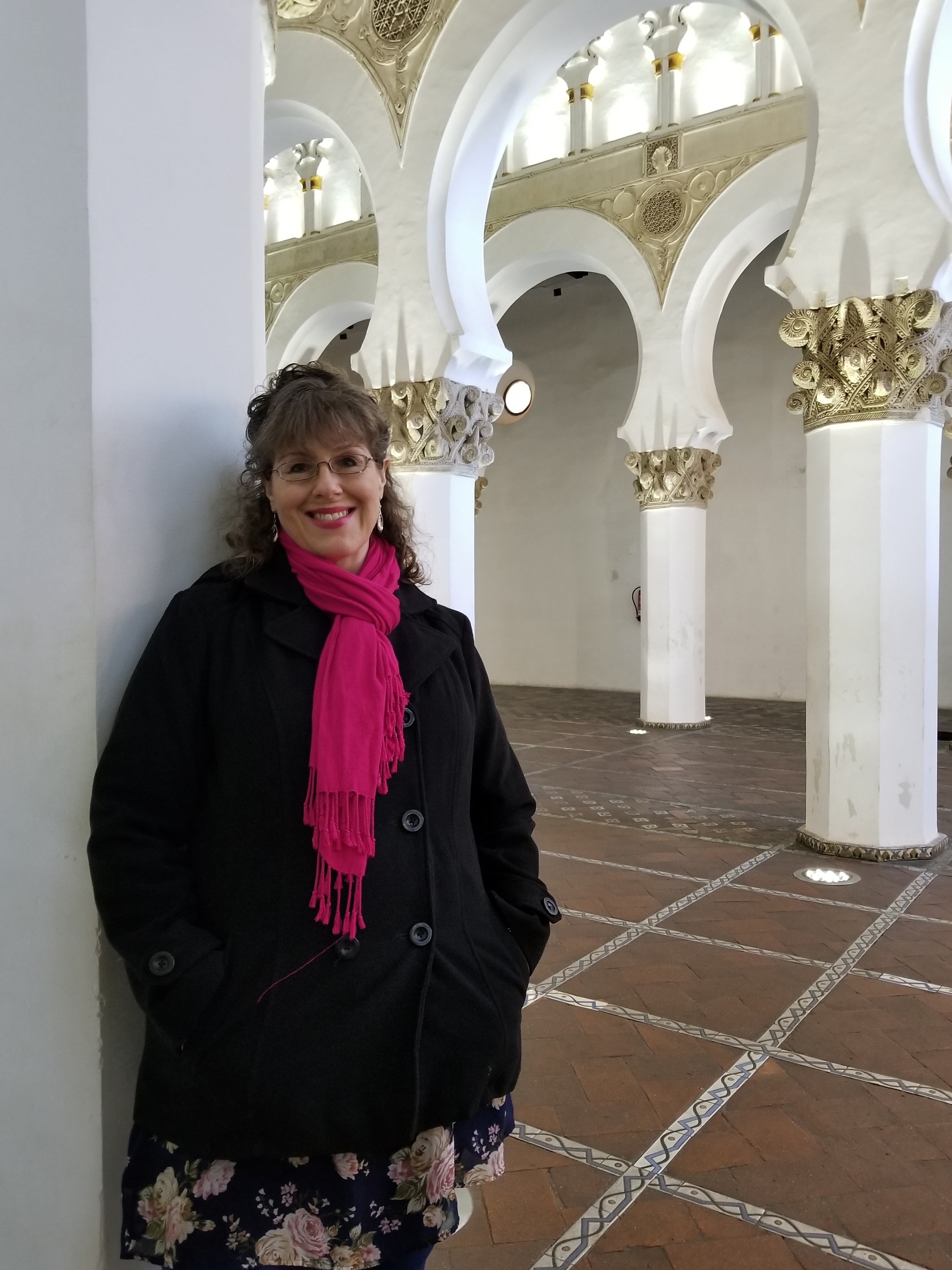 Once back into the city, we started our day at the Alcazar, followed by the Synagogue of Santa Maria la Blanca. The building was originally built in 1180 and is considered to be the oldest Synagogue still standing in Western Europe. The white columned archways and stunning tiles are a testament to the three cultures that coexisted in Spain (Christian, Jewish and Islamic). A visit to the Visigoth Church where we go to view the beginning of what looked to be the wedding of the season was lovely. I have not seen that much fur since the last time I visited the lemur cages at the zoo. I have a sneaking suspicion that it wasn't fake. The chains adorning the outside of the church were said to have once shackled Christian martyrs. Of course there had to be some shopping – especially with all of the tile in Toledo. How an entire city could be arranged so that every single site is uphill, I will never know.

My return trip to the states was uneventful, but as soon as we landed, I found out that the power in the Atlanta airport was completely out and there would be no flights out until the power was restored! Seriously? Delays on both ends? What have I ever done to the travel Gods? A night in Philly was followed by an early flight to Atlanta and finally, home with the kiddos.
So, the pressing question – what did I bring them? Yumminess, of course. I brought the kiddos and Papa Bear Iberian ham and chorizo. YUM! I have one chorizo that I am waiting to turn into a lovely red beans and rice next week. There were some amazing caramel stuffed cookies in a little shop in Salamanca that made their way into my bags – I think the shop keeper knew she had an easy mark when she started making it rain samples. She wasn't wrong. I also made a stop by the local grocery store and picked up some chocolate for churros – it not your Mama's Hershey's semi sweet morsels, it is a specific chocolate that is thick and heavenly! They each also got some adorable little house shoes to keep their tiny toes toasty this winter, and of course Tiny got some jewelry. It wouldn't be a trip to Salamanca without a little charro jewelry, now would it? Needless to say, it was an eventful and amazing week. I absolutely loved my time in Spain. I can't wait to go back and explore the south!