I happened to come across a recipe idea for these a few weeks ago.  I love buffalo wings, but don't like to eat them because I don't eat the skin of a chicken (or anything else that I am aware of), I don't like so much work to get so little chicken, and I don't want fried food.  My first instinct when I saw the initial photo of the meatballs is that can't be good for you!  Well, they weren't as bad a restaurant style wings, but still were not great for you loaded with chunks of blue cheese and creamy sauces.  So, I thought I would lighten up the recipe a bit and give it a go.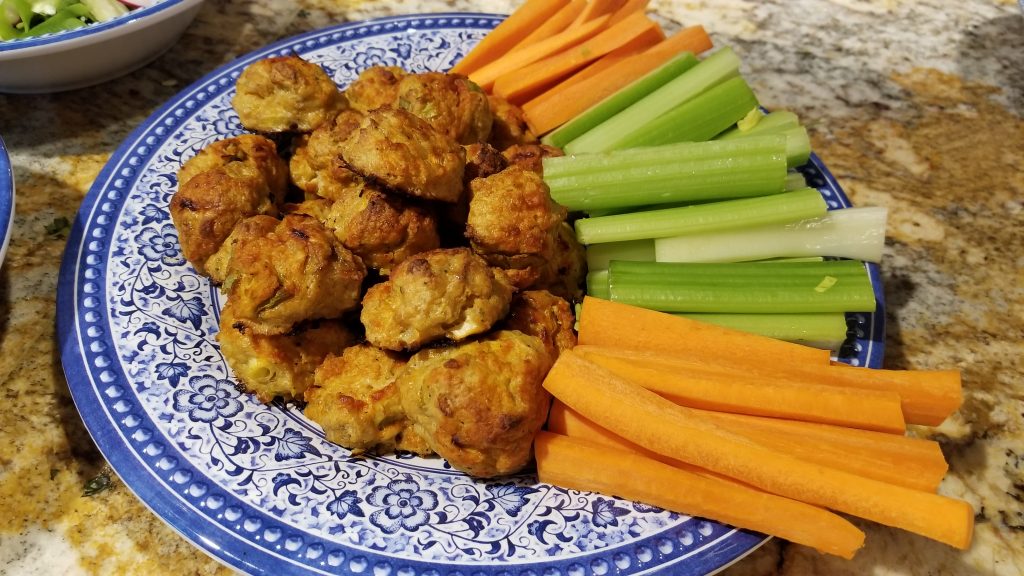 Turns out, they were a HIT!!! I am in love. I have already made them again since the first recipe. These meatballs are made with ground chicken and pack in tons of flavor. You can make them as spicy or as mild as you want and feel free to tinker with the herbs and spices – the recipe is very forgiving. One pound of chicken was barely enough for the five of us and it gave me about 20 decent sized meatballs – the second time I made them, I made a double batch. These would be perfect as a main course, or as an appetizer for a party. Since I am trying to loose a little bit of this quarantine weight I have put on (it seems like I have been cooking every "bad for you" comfort food dish I could remember for childhood), I put four meatballs on top of a garden salad with extra celery and carrot sticks as a bonus. You could serve them kebab style, or with any wing friendly sides you like.
The recipe couldn't be easier and gives you the flavor and feel of buffalo wings without as many calories and all that messy work.
Ingredients:
1 lb. ground chicken
2 table spoons minced garlic
½ tsp salt
1 tsp ground pepper
1 tsp onion powder
½ cup roasted garlic breadcrumbs (regular will also do)
1 egg
1 bottle buffalo style wing sauce (I used Frank's mild for the kids)
1 stalk celery, thinly minced
2 green onions, diced
¼ cup finely diced bell pepper
¼ cup finely minced carrot (optional)
For serving – celery and carrot sticks and ranch or blue cheese dressing.
Method:
Preheat your oven to 400 degrees.
Mix all ingredients (except wing sauce and a few of the green onions) in a large mixing bowl. Get in there and really mix it together. I like to use my hands and mix meatball mixtures much like I am making meatloaf. Be sure that the spices are thoroughly mixed together and that the egg and breadcrumbs are evenly spread through the mixture.
I added about 1/2 cup of wing sauce to the mix at this point and mixed again. 
Make your meatballs using a 1 T. cookie dough scoop, or just use your hands. I use a quarter sized ball and rolled by hand. I got about 20 to 25 out of a single pound of ground chicken.
The mixture is going to be a bit wet as you are rolling it out.  Don't worry about it.  Just roll and gently place on a baking pan.  I would use a pan with at least one inch sides so that the wing sauce and juices don't overflow into your oven.
Lightly drizzle with wing sauce and bake for about 10 to 15 minutes. Mine are done at about the 12 minute mark, but all ovens are different. To be sure they are cooked through, I use a meat thermometer and cook to 165 degrees in the center.
To serve, plate, hit them with wing sauce one more time, and serve with celery sticks, carrot sticks, and either ranch or blue cheese.  I also like to sprinkle with green onions before serving.  It adds some great flavor and the color makes the plate pop.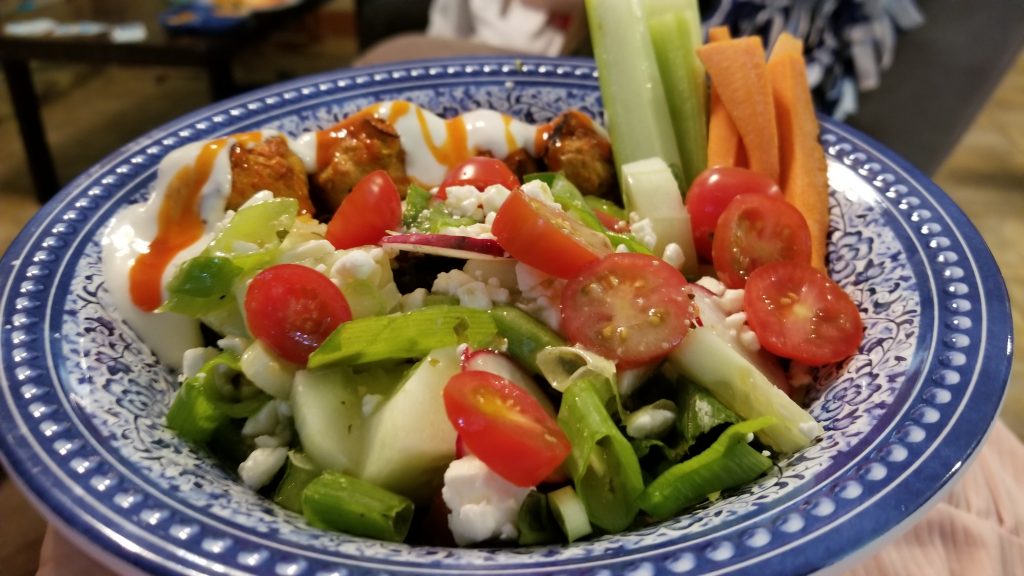 Like I mentioned before, I served mine as the protein for my dinner salad and it was perfect!
Buen provecho!
Like what you read? Don't forget to subscribe to my mailing list to never miss an adventure!