In previous posts on bulk cooking and freezer cooking, I have shared some of my tips, tricks and favorite recipes with you.  This post is all about ways to prep chicken when you find a sale and can stock your kitchen.  The trick is not to go crazy when you find a sale – I know, ironic advice from me.  I like to buy enough of an item to get me through until the next time it goes on sale.  You can count on some stores having the same item on sale every four to six weeks.  One local grocery store I visit has chicken tenders on sale at least once a month.  The same store also has ground beef on sale once ever four weeks.  This makes it easy to predict.  You can also buy at your local warehouse club.  I like to get my beef at my warehouse club, and my chicken depends on price.  While tenders are fine for most things, I don't always want that cut.
My favorite, and the most versatile for my recipes are boneless, skinless, chicken thighs.  Some people like white meat only – adjust for your taste.  If you won't eat it or it gets freezer burnt before you can get around to working it into your menus, you didn't save a dime – and actually wasted money.  I don't know about you, but I really don't like to waste money!  Don't forget to subscribe to my mailing list to keep up to date with new recipes and new freezer cooking posts!
Rubs and Seasonings
Once I get my chicken home (it is almost always boneless and skinless already) I get it ready to freeze.  I like to go ahead and season everything before freezing so that it marinates as it thaws.  Thinking ahead, folks!  For breast and thighs, I like to make at least one with a taco seasoning rub, and one pack for crock pot chicken tacos.  I have the recipe for this one below.  My crew loves this recipe!  I also like to make sure that one pack is marinated in olive oil and Tuscan seasoning (I like to pair this with a green salad and a tangy, lightly dressed past salad – yummy!), and one pack that is steakhouse (salt, pepper, powdered garlic, Worcestershire sauce and steak sauce), ready for the smoker.
Now that all of my base chicken seasonings are ready to go, I can plan out my menus.  If I have to nix one or two, it is going to be the steakhouse (though it is my personal favorite) and Tuscan.  The crew eats the others better.  If possible, I also like to have one that is just chicken – no seasonings, for chicken and rice, chicken and dumplings, etc.  If I am frying (check out my recipe for that here) I buy a fresh hen and section it myself – let it marinate in a buttermilk bath over night, then proceed with the coating and frying.
Rotisserie Chicken
This past trip, I was able to find some leg quarters that used to belong to the deli rotisserie chickens.  They sacrificed their breasts and wings to some pre made chicken salad, and the leg quarters were chilled and being sold for less than $5.00 for six rotisserie quarters.  I bought two packs, skinned and deboned them and popped them in the freezer for later.  It made about three quarts of chopped meat!  Those are going to be some amazing chicken salad and chicken and rice!
Crock Pot Chicken Tacos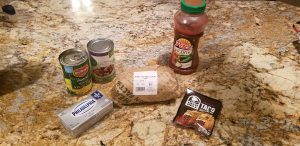 On to the chicken tacos.  I like to throw this into the crockpot on a day when I know I am going to be busy – and as a result, tired.  For example, papa bear is traveling (only for a day) to do some research this week.  That means that I will be responsible for the care, cleaning and feeding of the brood on my own.  Life is a little easier on a day when we are already volunteering for a couple of hours, meeting with a student for a late advising session, and still have to drive an hour (after picking up the teeny one) before I get home.  I may make it home around 6:30 ish.  I don't want to cook a healthy meal at that point.  To keep me from stopping at a drive through, I need something in the crock pot that is calling to me on the drive home.  These tacos would be perfect.
Ingredients:
2 pounds chicken (any cut)
1 large can diced tomatoes (we like petite)
1 can black beans, drained and rinsed
1 can whole kernel corn
1 block cream cheese
1 packet taco seasoning.
Method:
I put everything in a single, 1 gallon freezer bag so that it all freezes together, then thaws together – fusing the flavors over time.  When I am ready to cook, I pull the freezer bag out of the freezer and let it thaw in the fridge over night.  On my way out the door the next morning, it all goes into the crock pot to cook on low for 10 hours.
By the time I get home, it is done and ready to go!  Add your cream cheese, allow a few minutes for it to melt into the chicken and taco meat is ready.  The cream cheese gives it a rich and creamy texture that I really didn't think I would like the first time I tried it – I did.  I also learned that you need to wait to add the cream cheese until the end of the cooking.  It clumps (doesn't spoil) but cooks if you leave it in too long in an unappealing way.
To serve, just use tongs or a slotted spoon to remove cooked meat and vegies, pop into taco shells or tortillas and serve with Spanish rice.  I like to put mine on a bed of salad greens with a ton of salsa and a bit of Mexican shredded cheese as toppings.  Crock pot taco salad if you will.
Like what you read?  Don't forget to subscribe to my mailing list to never miss an adventure!